FFVT – "Report Globale Flucht 2023" (German) to be published by S. Fischer Verlag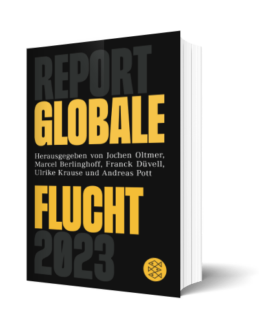 A comprehensive picture of displacement, conflict and international protection.
Displacement is a global challenge. The 20th century was already considered the "century of refugees". Yet at the beginning of the 21st century, the number of people seeking protection has by no means decreased. Military clashes and armed conflicts contribute to this as much as the collapse of states and authoritarian political systems that do not tolerate oppositional actions and non-conformity in their own countries. Climate and environmental catastrophes as well as the effects of global inequality are also considered in political, media, public and scientific debates as causes of displacement. The annual Refugee Report offers well-founded knowledge on global displacement and implications. 2023 the focus is on displacement as a result of the Ukraine war.
This is the start of a new series on one of the most pressing issues of our time. The report is the first regularly published German-language publication on the topic of displacement. It is to be published annually by the joint project "Forced Migration and Refugee Studies: Networking and Knowledge Transfer (FFVT)."
FFVT is a cooperation project of the Centre for Human Rights Erlangen-Nürnberg (CHREN) together with the Bonn International Centre for Conflict Studies (BICC), the German Institute of Development and Sustainability (IDOS) and the Institute for Migration Research and Intercultural Studies (IMIS, University of Osnabrück). It is funded by the Federal Ministry of Education and Research and aims at strengthening interdisciplinary forced migration and refugee research in Germany. At FAU, it is led by Prof. Dr. Petra Bendel and conducted by Johanna C. Günther.
The Report Globale Flucht will be available in German in bookshops from April 26th.