Library
About the library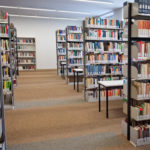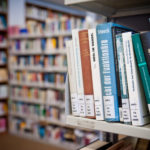 The Library of the Institute of Political Science is an integral part of the central FAU University Library system. The location code, which forms the first part of the collection's classification system, is 05PO.
The library and collection comprises of
35,000 items
16 workspaces, 14 of which with plug sockets
2 Sunray terminals
FAU network WiFi: FAU-STUD, FAU-STAFF
Photocopying facilities can be found in Kochstr. 4 and Bismarckstr. 1. Commercial photocopying services are located within walking distance of the Institute.
Loans
The loan period for most books in the 05PO collection is two weeks. It is possible to renew these items twice in total for another two weeks per renewal. Books with the classification 05PO 80 (textbooks) and 05PO 03 (Mentorat Prof. Kauffmann) may be borrowed for 4 weeks. Two renewals per item are possible each for a period of 4 weeks.
Journals, yearbooks and reference works are not borrowable.
Monographies are available on open shelves in the Reading Rooms. The latest issues of journals are available in the Information/Loans Desk area of the library. Older bound volumes of journals are stored in closed rooms and must be ordered
Overdue items will incur fines. See: Fees and fines
FAUcard: loan services (reserving, borrowing and renewing) function through your FAUcard The FAUcard is also the library user account card for students and staff.
Location
Library 05PO: Political Science
Room 00.054
Kochstr. 4
91054 Erlangen
Department of the History of Political Thought
The Department of the History of Political Thought is part of the Chair of Political Science II and home to the Gerlach-Archiv and Eric Voegelin-Library