Beyond the Center: Open Access Research Volume on Decentralization in the Middle East opens new perspectives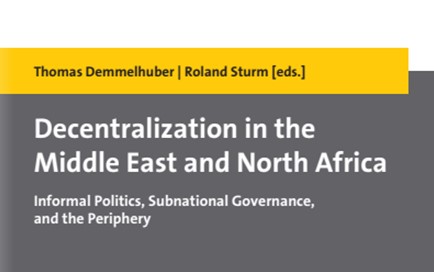 Political Science has often been blind to political developments and changes beyond political centers as it focused almost exclusively on the national level. A new edited volume from the DFG-funded project on Decentralization in the Arab world at Erlangen's Institute of Political Science now helps to diminish these caveats. The authors of the contribution widen their scientific scrutiny to subnational governance, informal politics and the importance of peripheral areas. Based on extensive fieldwork, the articles in this Open Access volume close important gaps in the vastly underresearched area of comparative decentralization reforms in the Middle East and North Africa (MENA).
The volume edited by Thomas Demmelhuber and Roland Sturm originates from the DFG-funded project on decentralization in the MENA at FAU. Decentralization is the transfer of tasks, competences and power from the national level to municipalities, provinces, governorates or regions and is an important prerequisite of modern governance. The international community hopes that local governance reforms will lead to development, efficiency and democratization and is heavily advocating and supporting such reforms. Yet the actual effects of decentralization in each individual body politic are controversial and little research had previously been conducted on the highly centralized MENA regions and its emergent decentralization projects.
The contributions in this research volume present detailed insights into the possibilities and limits of local government reforms in the MENA world region. The authors also explore how autocratic regimes use subnational governance and reforms to stabilize their own rule. The venues of this book explain informal politics, dynamics of continuity and change in subnational elites, fiscal potentials and dependencies of local and regional actors on the central state as well as the role of international donors.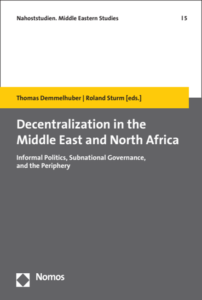 The Open Access volume enriches the current scientific debates on authoritarianism, political transition, decentralization as well as MENA area studies. Through its well-grounded analyses of reform problems and constraints, this research volume can also prompt better informed actions by policymakers and actors of development cooperation.
The volume with contributions by Sylvia Bergh, Miriam Bohn, Thomas Demmelhuber, Roland Sturm and Erik Vollmann focuses on the cases of Morocco, Jordan, Tunisia and Egypt and can be downloaded for free at the NOMOS eLibrary.