Tobias

Zumbrägel

,

M.A.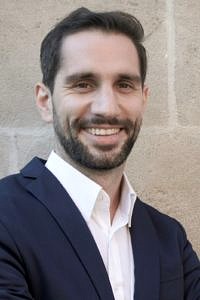 Job title:

Wissenschaftlicher Mitarbeiter

Organization:

Department of Political Science

Working group:

Lehrstuhl für Politik und Gesellschaft des Nahen Ostens

Phone number:

+49 9131 85-22072

Email:

tobias.zumbraegel@fau.de
Address:


Bismarckstraße 8

91054 Erlangen

Room 3.108

Office hours:

Sprechzeiten: nach Vereinbarung
Weekly Tue, 14:00 - 15:30, Room 3.108,
---
Tobias Zumbrägel is a student in Germany. He received his B.A. in Islamic Studies and History from the University of Cologne. His bachelor thesis on the role of Gamal 'Abd an-Nasser in the Arab-Israeli War of 1967 was awarded with the faculty price in 2013. He obtained his M.A. in the interdisciplinary joint Master's program
Comparative & Middle East Politics and Society
(CMEPS) from the University of Tübingen, Germany, and the American University in Cairo, Egypt. His master thesis focused on Qatar's promotion of environmental protection and its effects on a domestic and international level. In 2015 he received a Bucerius Pre-Doctoral Grant by the ZEIT-Stiftung and since autumn 2015 he is a PhD candidate and was a research associate in the German Research Foundation (DFG) funded project '
Authoritarian Gravity Centers'
at the Chair of Middle East Politics and Society, Friedrich-Alexander Universität Erlangen-Nürnberg (2015-2018). During this time, he had several field research trips to Saudi Arabia, Qatar, Bahrain and Kuwait. Since summer term 2018 Zumbrägel teaches at
the interdisciplinary centrum of digital humanities and social science
. He also conducts research in the interdisciplinary FAU-cluster:
Discourses and Practices of Digital Sovereignty.
Digitilization and social change
Climate policy in the Arab World
Authoritarian durability and persistence
International relations of Egypt and the Gulf monarchies
Political legitimation and legitimacy in non-democratic regimes
'Cyber sovereignty' and autocratic regimes
History of Egypt, Iraq and the Arab Gulf monarchies
Research Associate in the DFG project: Authoritarian Gravity Centres. A comparative analysis of autocracy promotion and diffusion. (Universities of Hildesheim & Erlangen-Nuremberg, 2015-2018)
PhD: "In Search of New Sources of Legitimacy – the Rise of Environmentalism in Arab Gulf Monarchies" (working title)
Articles and Reviews

Selected Newspapers, Blog Contributions and Interviews 
Wo Interesse und Ideologie kollidieren: Die neue saudisch-israelische Allianz, in: AlSharq Analyse (Apr 2018), URL: http://www.alsharq.de/2018/mashreq/israel/wo-interesse-und-ideologie-kollidieren-die-neue-saudisch-israelische-allianz/
TV Interview: Präsidentenwahl in Ägypten, ARD alpha Demokratie (28 Mar 2018), URL: https://www.br.de/fernsehen/ard-alpha/programmkalender/ausstrahlung-1352192.html
Radio Interview: Gamal Abdel Nasser würde heute 100 Jahre werden, Interview Radio Bremen 2 (15 Dec 2017)
Anti-corruption campaign in Saudi Arabia: The harder they fall?, in: Qantara (Dec 2017), URL: https://en.qantara.de/content/anti-corruption-campaign-in-saudi-arabia-the-harder-they-fall
Die Kampfhandlungen: Wie Israel 1967 seine Nachbarn überrumpelte (co-author Christoph Dinkelaker), in: AlSharq Analyse (Jun 2017), URL: http://www.alsharq.de/2017/mashreq/jordanien/die-kampfhandlungen-wie-israel-1967-seine-nachbarn-ueberrumpelte/
"Wie es 1967 zum Krieg zwischen Israel und seinen Nachbarn kam" (co-author Christoph Dinkelaker), in: AlSharq Analyse (Jun 2017), URL: http://www.alsharq.de/2017/mashreq/jordanien/wie-es-1967-zum-krieg-zwischen-israel-und-seinen-nachbarn-kam/
Warum autoritäre Regime Großprojekte lieben – und wieso die nichts helfen, in: Deutschlandradio Kultur, Sendung: Studio 9 (26 Juli 2016), URL: http://www.deutschlandradio.de/audio-archiv.260.de.html?drau:from=26.07.2016&drau:page=4&drau:to=26.07.2016&drau:audio_id=473335&drau:play=1
Is Qatar really going green?, in: Newsletter of the European Centre for Energy and Resource Security (EUCERS) – King's College London, Issue 55/2016 URL: http://www.kcl.ac.uk/sspp/departments/warstudies/research/groups/eucers/newsletter/newsletter55.pdf
Ein Herz für Ägypten?! – Die Auswirkungen von Finanzhilfe aus dem Golf, in: AlSharq Analyse (Februar 2015), URL: http://www.alsharq.de/2015/nordafrika/agypten/ein-herz-fuer-aegypten-die-auswirkungen-von-finanzhilfe-aus-dem-golf/
Der Statthalter in Luxor muss gehen – ein (kleiner) Erfolg der Zivilgesellschaft in Ägypten, in: AlSharq Analyse (August 2013), URL: http://www.alsharq.de/2013/nordafrika/agypten/luxors-statthalter-muss-gehen-ein-kleiner-erfolg-der-zivilgesellschaft-in-agypten/
In Ägypten ist Kunst keine Tochter der Freiheit, in: AlSharq Analyse (Juli 2013), URL: http://www.alsharq.de/2013/nordafrika/agypten/in-agypten-ist-kunst-keine-tochter-der-freiheit/
Research Fellowship at the Gulf Studies Program, Qatar University, Doha  (Feb – Mar 2017)
Research Fellowship at the King Faisal Center for Research and Islamic Studies (KFCRIS), Riyadh (Nov – Mar 2016)
Grant: Bucerius Pre-Doctoral Scholarship 'Trajectories of Change' of the ZEIT-Foundation, 2015-2016
Scholarship: Deutsche Akademischen Auslandsdienstes (DAAD), Aug-Dec 2014
Award: Best Bachelor Thesis of the Faculty of Philosophy, 2013
Colloquium: Digital Humanities Werkstatt (SS 2019)
Summer School "Hands on Cultural Heritage" (SS 2019)
B.A. Course:Politik 2.0 – Wie die Digitalisierung das politische Leben verändert (SS 2019)
B.A. Course: Das digitale Zeitalter und autokratische Regime: Fluch oder Segen? (WS 2018/2019)
B.A. Course: Freund oder Feind? Internetbasierte Medien in Autokratien (mit Prof. Dr. Thomas Demmelhuber) (SS 2018)
B.A. Course: Die regionale Außenpolitik der Länder des Golfkooperationsrates seit 1981 (SS 2017)
M.A. Course: Legitimität und Legitimation im Nahen Osten (mit Prof. Dr. Thomas Demmelhuber) (SS 2016)
M.A. Course: Klimapolitik als Legitimationsstrategie nahöstlicher Staaten (mit Prof. Dr. Thomas Demmelhuber) (SS 2016)
Deutsche Arbeitsgemeinschaft Vorderer Orient (DAVO)
Association for Gulf and Arabian Peninsula Studies (AGAPS)
German Political Science Association (GPSA)